We are posting latest 2017 WordPress plugin, All are tested by us and we screenshot is attached, We are posting plugins which support latest wordpress software, WordPress is an open source software and more than 37 million website use it. For beginners its so easy to install wordpress using any auto-script installer software like Softaculous, Installatron, etc.
WordPress is most popular software and even less technical people can customize their website using WordPress plugins which is so easy to install from WordPress dashboard and there is also other options are available like hiring developer to customize your website or customize your website yourself by reading wordpress tutorials.
Everyone want to be listed on Top 10 result of google and we can take a benifit of "Google Rich Snippets" but doing this manually is bit hard but your work can be done by just one click by installing a WordPress star rating plugin which support google rich snippet and ratings will show in google search result.
Example Star Rating which shown in Google Search Result:

Note: All plugins are tested by us on our one of blog, We do not post any untested plugin. It takes 3 days to write this post because of testing hundreds of plugins and chose 20 good plugins in them.
WordPress Star Rating Plugins
1. kk Star Ratings
kk Star Rating have a lots of features like where to show rating and you can chose top, middle or various option, kk Star Ratings have a visual button in your post to manually display it anywhere is your post/pages, You can easily use short code to display anywhere in your post.
You can see rating statistics in your wordpress dash board, Restrict voting per unique IP Address, Chose your own image like If you wish to use different icon for stars then chose your own image. by default 5 starts can be show but you can increase or decrease star rating from settings menu and of-course it support Google Rich Snippets. This is highly customizable and easy to use so we listed it in our #1 number.
You can enable and disable most of features from Settings and also it support Tool-tips which is customizable.
2. Rich Reviews

This is another rating plugin which have a various features and allow to add reviews on your wordpress post or pages. You can add this to per page, per post, category or global review. I am sure you wish to have a feature of approve or reject reviews so you can control bad reviews of your post because of competitor can do this for your post/pages to decrease your google visibility.
Color of stars can be customize, It can be displayed in microdata format following Schema.org. You can modify plugin files or settings from your wp dashboard. It can also combined with Shopper Approved account which is an advance feature and really useful.
3. Mage Reviews

I love Mage Reviews plugin, It work perfectly and this plugin is different kind of plugin. It allow your user to post review with comment so you will get double benefit means star rating with comment. You can add rating option to comment form on any post type. It allow you to show average rating to single post, Compatible with Buddypress Members and logged in user/author. If you are author then you can post your own review.
Its easy to find Mage Review Dashboard because of it automatically added to wordpress side menu.

Dashboard contain settings, You can also force user rate post to submit comment. User can be also restricted to allow only one submission per post.
4. WP Review

This wordpress rating plugin is really simple and easy to use, It allow control on post it means you can post your review while writing your blog post add rating and then publish your post. It does not give us lot of setting option but suitable for most of people who want to post their own rating instead of relay on visitors review.
We test this on our blog and here is a screen shot which can give you an idea that how it look like.

You can change position like show it below post, above post or use short code and post in your post/page and it will display on your selected position.
5. WP-PostRatings

This is highly customizable rating plugin and support various type of rating option like you can chose star crstal, heart, bars, and various other option. For google snippets you will need to enable it from settings and it support lots of option.
100 Thousands plus people are using it, You can also chose option like allow to rate guest users only or logged-in users only. It also comes with Templates which allow us to customize display or rating in wordpress post, pages. We can display rating percentage and much more option. This plugin is Ajax based wordpress rating system.
If you want more customization in this plugin then don't forget to see their FAQ section, They provided many code to add in wordpress files. One thing I like in this plugin is it does not ask us to upgrade or use pro version for features. This is completely free like most of plugins.
6. Rating-Widget: Star Rating System

This plugin have a lots of reviews but this is widget type review rating plugin, This is fancy looking rating widget and It exactly look like a widget. You can see how it look like on wordpress blog post. Here is screenshot: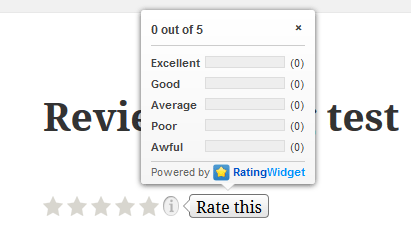 In above screenshot you can see its show a bubble but it will only show when your user will hover mouse on "Rate this" button or you can disable bubble from settings and it will only show rating icons so its completely okay.
Main thing is this rating plugin is more trusted in eye of your visitors because of they do not store rating data on your server, They store rating data on their own server so you can say bravely that "hey, our ratings are trusted and we use this plugin which store data on their server".
This plugin have a various features, Chose stars or thumb-up icon to display on your site. You can chose various star icons like football rating icon, size of icon, etc. Do you no longer wish to receive rating on your blog? If yes then activate "read only mode" and enjoy.
In your sidebar, You can add widget of top-rated post. You have a 10 post which is most rated post then it will display your 10 posts in a widget which look so cool.
7. GD Rating System
This is powerful wordpress rating plugin which contain lots of features and allow us to customize setting. You can enable/disable various option like enable rating in comments, post or Rich Snippets. It support Ajax loading which is an optional. I like this plugin because of it give us different kind of features.
Save user agent of visitor who rated your post, Add verification on Anonymous rating. Voting can disable from settings with your custom message. You can enable maintenance mode.
It comes with default setting which is secure and you don't need to do anything, It will enable rating in your post in bottom section. (After your post, rating stars will be displayed). You can chose rating location and automatically embed rating stars in Post, Pages or media. Adding rating to media is really good feature.
You can chose stars up-to 25, Limit vote per visitor or select roles of user who can vote like administrator, Editor, Author, etc. Icon of stars can be changed to circle icon, bell and various other option.
Rich Snippets have a various option and you can customize setting and GD Star rating plugin also allow us to debug plugin If required.
8. Post Ratings

This is very simple and amazing wordpress rating plugin which is automatically integrated in our customized theme and work without any issue. Setting is very simple and also allow us to use custom formula to calculate total rating percentage. Star rating can be increased changed from 1 start to maximum 10 stars.
I like this plugin because of its so easy to understand setting. You can chose location where to show your rating stars like Hope, Post, Page, Comment, Archives and much more. Want to allow only registered user? then you can change it from settings and then only registered member will be able to rate your post.
If you wish to rate your post yourself only then disable "allow only registered users to rate" and rate your post yourself.
9. Cosmick Star Rating

Cosmick Star Rating plugin is different kind of plugin which does not allow your visitors to rate but it will only allow to author to rate post while posting. Means while writing your blog post you will see an option in right side and it will display stars to rate from Zero to Five. This plugin does not comes with setting option but very useful for you If you wish to rate your post and don't want to allow others to disturb your post.\
Here is screenshot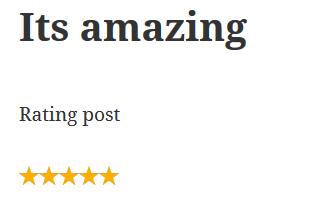 It support google rich snippets. I saw various rating plugin but this plugin allow us to put code inside our wordpress template file. Most of custom or premium templates are highly customized and sometimes it does not show rating in post unless we manually put display php code of rating system in our template so this is very useful for you.
10. Multi Rating

Multi Rating is not so popular but we tested this and its a really powerful rating system, It comes with 5 star ratings, percentage, score result, custom icon and even you can use icon of fontawesome. See rating result in your wordpress dashboard area. Duplicate rating can be controlled from settings.
Easy to integrate without modifying your theme, I like Graphical reports on the number of entries per day, Extract result to CSV file. It also comes with short code and it will be easy to display your rating on any location of page/post. Their free version have a all basic features but If you wish to use reCAPTCHA in form then you will need to upgrade to pro version. We did not try pro version because of free version complete our all requirements so why we need to use pro.
11. Yasr – Yet Another Stars Rating

Plugin allow you or your visitor to rate your blog post, page. After installation you can join your wordpress blog with their server or skip it however you will need to change setting otherwise there is a chance that it will not display unless you change settings. From settings, Enable "Auto Insert" and chose settings according to your needs. This is powerful and also beautiful star rating plugin. While posting I saw a option to rate my post while posting article.
You can see this screenshot: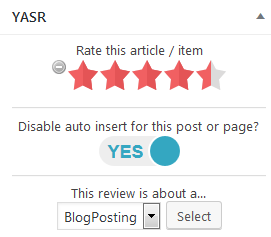 You can chose rating star size to small or large, Exclude pages, Add rating system before or after post, Show visitors votes. You can restrict voting to registered users only.
From Aspect & Styles, You can chose different type of star, Icon and have a custom CSS option. Multi-Set option of this plugin allow to different aspects for each review, For example If you are reviewing a Blog or Forum site then you can create "Blog", "Forum", etc.
12. Reviews Plus
Simple as claimed by them and easy to customize, There is no any huge setting but this is second plugin we saw which also allow manual method to integrate in your template, We already mentioned earlier that some of theme does not modified automatically and this plugin give an option to manually add php code or short code.
We tried this, Installed it and it automatically integrated in our blog, In starting we change some settings and add rating system to our blog and post and it work like a charm.
We took a screenshot which show on our blog post.

This is really nice, It allow to post review with name and comments. Most of only allow to click on star and it will be posted but this one plugin allow to post rating with comment. You can control reviews where to display and menu created in "Settings" menu of wordpress.
It support Google Rich Snippets and our all plugins which is listed here support Rich Snippets.
13. Rating Box
Another up-to date plugin and useful for latest wordpress blogs, Its a very simple star rating. There is only one option is settings which will allow you to chose "Top content" or bottom content. No manual work is required and its so easy to integrate.
14. Shortcode Star Rating
Amazing and simple rating plugin which allow you to control percentage like set maximum percent to 85%, Maximum star numbers, You can chose type like percent or rating. Star color can be changed by HEX color code. You can add short code anywhere in your post or page.
15. Rating by BestWebSoft
This is awesome rating plugin, Settings allow us to customize various thing like chose where to display you rating, Average rating position, Combine average rating with a rate option and change rate option position. Appearance allow us to chose color of star, size of star, text size and many message like thank you for rating message, etc.
16. Rating System
Normal Like, Dislike rating system and look fancy. It support Woocommerce, bbPress, buddyPress, etc and you can enable it for post, page or comments. With shortcode you can add it to your selected place in your post.
17. Simple Rating
Fancy and comes with lots of option, You can allow or disallow guest to vote, See live preview of changes, Show or hide vote count, Language setting, It support google rich snippets and developer is quiet active. It support latest version so you can try it blindly.
This is powerful wordpress review plugin and you can create as many reviews as you wish, Customize review, Choose the style of your reviews create skin like star, percent, or point. Last update was 1 month ago means development is active.
Conclusion
There is lots of plugins and some of plugins are outdated but we posted only up-to date plugin so If you choose plugin by yourself then first check last update time. If you wish like any plugin and plugin is outdated then make changes to plugin and use it on your site. You can suggest more useful plugins.