Although, designing a hotel portal is not complicated and skill-requiring yet why should you spend your time on a task done already by other experts? There are hundreds of origins out there (some 100% free) that can save your money and time in designing. All you need to find such sources. This guide will help you look into resort & hotel WordPress themes.
Regardless of what is you are looking for, whether it's a new WordPress site or thinking of moving the existing site over to WordPress, just pick up one of the following themes. Themes below include some paid ones, but since this collection is faultless and perfect, giving you a powerful online existence it's worth spending some cash.
1. Haven Hotel Theme
Looking for a theme comes with various demos? Haven provides you with numerous demos; each comes with unique functionality and approach. With suitable layouts and lots of features, it's worth the price. All you need is to understand applying styles on your site since it's the key element of running a triumphant hotel.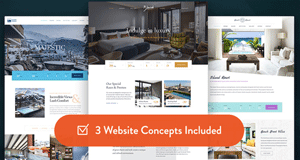 Features
• All 3 demos need you applying just a single click to have the experiment.
• Comes with a booking functionality, saving your time and eliminating your need for loading your site with heavy plugins.
• Facilitates you to help visitors register easily since the sign-up form visibility is possible almost anywhere on the homepage.
2. Oceanica Theme
It's another WP theme works for your resort or hotel website. The primary goal is to minimize your efforts in arranging prices, images, and plugins. Beautiful headers and amazing text layouts make the typography much more profound and pivotal. The design is well established, makes you appreciate developers.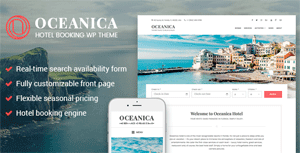 Features
• Supports MotoPress Hotel Booking Plugin because it precisely gets connected to the plugin.
• The elegant and intuitive design makes it perfect visually
• Contains easy navigation, clutter-free pages, and durability.
• Exploring the site would be an amazing experience for your guest since you can arrange images and posts using numerous ways.
• Mobile ready and responsive, displaying clean and sharp content on tablets and mobiles regardless of the screen size.
3. Hotel-Melbourne Theme
Perhaps, you have noticed some simple WP themes containing a hero image that surpass the whole images and pages. Similarly, this theme comes with that strong image designed to pull out surfers' attention, enabling you to sell your hotel idea. You can set this, forwarding visitors to your contact form, booking page, or price list, depending on the priority. Besides, you can integrate with several plugins in order to help visitor book online.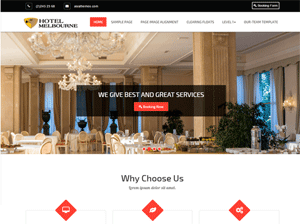 Features
• By default, it comes with light them if the free one is preferred, but in case of going premium, enjoy both light and dark style as well as get facilitated with WPML support.
• Completely responsive, customize as per your requirement and hotel location.
• Contains magnificent header providing you the provision of creating well-looking menus.
• The developers focused on enabling surfers to explore content using any device.
• Comes with 8 color schemes and over 10 templates.
• Helps admins to feature their slides and custom the widgets.
4. Hotel Galaxy Theme
Similar to Hotel Melbourne, it focuses initially on a hero image. If you want to display upcoming events, rooms' pictures, and boundaries, this theme is the best fit for your targets.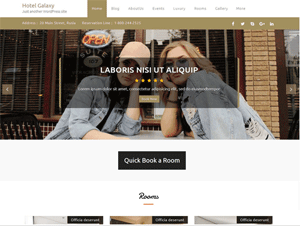 Features
• Unlike other themes, you can start a nice articles blog either, which will look professional and non-manual compared to other hotel WP themes.
• Free version contains numerous magnificent features, but the premium comes with advanced setup, providing online booking button and texts which help you make scheduling forms to manage payments offline and online.
• Contains front page, Contact Us & About Us pages, social navbar, and over 550 Google fonts.
• Lets you add gallery images, customize the color scheme, arrange custom post types for particular shapes of rooms like suites.
5. Hotel Hamburg Theme
Although, it comes with many reasons to install, yet what I prefer for, is having an additional sign up form placed on the home page. By configuring the design, you will notice it appears. I think for improving leads and growing sales, sign up form on the home pages is an invincible idea.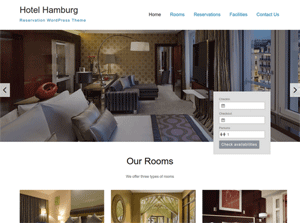 Features
• It's completely free, so no need to go premium to avail advanced features that already exist in the free one.
• Compatible with plugins created for online booking purpose including Advanced Booking Calander Plugin.
6. Hotelica
Hotelica comes with numerous homepage styles; choose as per your style of posting and thinking. What makes it unique is the verity of free front page styles. The premium version is affordable and considered one of the cheapest WP hotel themes, breaking not the bank. Since mid-2006 till now, it has gained a decent number of leads. I always recommend applying free WP theme before heading to purchase premiums since free ones provide you an idea regarding paid themes.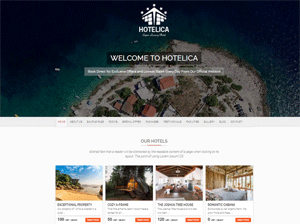 Premium Version – $29

Features
• Premium version gives you additional page templates such as numerous blog styles, picture gallery, and testimonials.
• The responsive and clean design gives you the mean of establishing a site for a hotel, food joint, restaurant, hospitality business, and lodge.
• Excellent and animated homepage facilitates surfers to explore items even on mobiles and smart devices.
• Customizer API helps you configure all settings.
7. Resortica Theme
Resortica WP theme is for the admins with professional approach when developing WordPress sites. It's actually the best pick for having a powerful header: one of the most cheerful graphics I have ever checked amongst hotel related WP themes.
It looks more natural when uploading nature photos. It has various fantastic factors for being the best including clean logo section and invincible navigation menu. Before downloading & installing, take a furtive look at their live demo to check if the features are working. The developers used Google Web fonts to make elegant typography functional.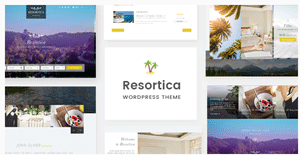 Features
• Features dynamic slideshows to make the site more professional looking.
• Arranged in line blog posts, making the visitor able to search particular content.
• Amenities you to list all you offer in your hotel, restaurant or gym.
8. Hotel Lux Theme
Hotel Lux WP theme is amongst ones whom you love for reasons. Its enormous functionality and advanced design help you manage a great hotel WordPress portal. Since it contains sophisticated and tremendous color options, you can choose any color and customize all the necessary changes in the default setting.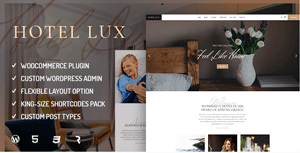 Features
• The theme is compatible with Firefox, IE10, IE11, Safari, Chrome, Edge, and Opera browsers.
• Supports many business plugins including WPML, Event Calander Pro 3.12, and more.
• Fixed scrolling navigation helps you explore necessary files, images, and text.
• The natural color scheme by default is tremendous, giving you the easy yet effective way of customization.
9. Hotel Booking Theme
The words, describing and explaining Hotel Booking WP theme the best, include elegant, clean, simple-to-setup. The developers give the guarantee of compatibility with the latest WP versions. I didn't find any WP theme that contains as much functionality as Hotel Booking WP theme.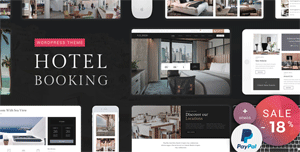 Features
• A group of pre-defined homepages gives you the opportunity of picking the one, suits your taste.
• Based on cost range, the visitors can explore the facilities you wish to provide them.
• All the homepages work fine with various features including custom grid layouts, dynamic Ajax room sorting, and search features.
10. Hotel Master Theme
Apart from various excellent features, I love its room booking system. During the booking process, the user can explore all available rooms with necessary equipment. Generally, changing the parameter needs you to refresh the page, but Hotel Master WP theme allows you to have this done with Ajax feature without being forced to reopen or refresh the site.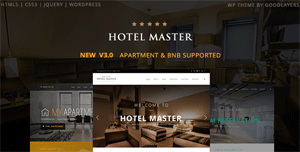 Features
• Despite the developer launched its premier few years ago, they are providing regular changes and updates.
• Suitable for developers, searching a clean and minimalist design.
• Comes with the ability to block any particular room if you tend to rent not on the specific date.
11. Soho Hotel Theme
A good WordPress site carries a form on the homepage that lets visitors book and makes a purchase soon after loading the page. Soho Hotel WP theme is furnished with that good idea. By loading the page, you will notice an excellent and long horizontal sign up page. Apart from other tremendous features, this one appeals you adapt Soho Hotel theme.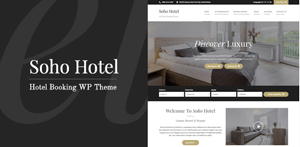 Features
• You can connect the form it comes with, to any sort of booking plugin as well as it's good for using the private list of registrations.
• Admins can manage various hotels by affixing custom classifications for each location.
12. Mykonos Resort Theme
Mykonos Resort theme is one of the most attractive and responsive themes, particularly for showcasing the resort/hotel in a tremendous style. Using sturdy widgets, you can showcase site's content on the homepage, developers furnished with excellent and functional widgets. Admins with the passion of publishing unique and stunning layouts can't avoid Mykonos Resort.

Features
• Guarantees promoting your hotel and resort because of working features.
• Completely, showcase your assets using embedded gallery and slides, allowing you to set the offers and prices in a distinctive way.
• You can manage your own forms, image galleries, and room previews.
13. Colosseum Hotel Theme
Tired of light WP themes and now looking for a darker one for putting content on your hotel site? Consider adapting Colosseum Hotel, designed particularly for those with the interest of working with dark themes. Because of being fully responsive, it should worth the price. It supports almost every booking plugin, helping you work with any of available plugins.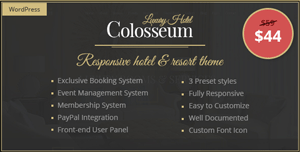 Features
• Custom loading animations enable you to use any classy aesthetics. Visitors will enjoy those animations when scrolling the page.
• Gold highlights and powerful dark background lets visitors book, sign up or at least contact you.
• Colors don't prevent reader to understand the text; however, in case of requiring more contrast, you can modify the colors.
14. Hotel Xenia Theme
Looking for a theme that can grab audience attention and make them accept exactly what did you offer? Consider inspecting Xenia theme, offering easy-to-handle heading text and large background image.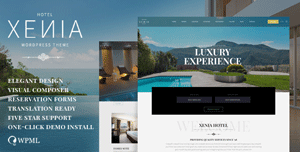 Features
• Complete page control with setting up testimonial widgets, image galleries, and other specific elements.
• It pops, so you can customize the content that will appear periodically.
• A unique check-in form is available on the homepage, letting guests choose their check-in and check-out dates along with registering a room.
15. Hotel Leisure Theme
Using dedicated features, you can adorn your hotel website with Hotel Leisure theme. The developers made it available in 2015, but they're updating it constantly with more helping features.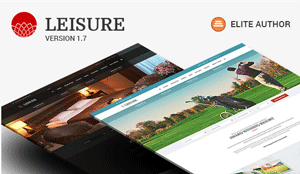 Features
• Header texts are gorgeous, splendid, and eye-catching.
• Multi navigation zones facilitate you to design small or big menus.
• Freedom of selecting the dark or light design, containing matching layouts.
Conclusion
After finding the right choice, there shouldn't be any complications in downloading and installation of the theme. However, it's challenging to figure out the way of matching the theme to your business. I hope this paper will help you move in the proper direction.